Stainless Steel Wire Mesh Basket
We offer Stainless Steel Mesh Baskets both for medical sterilization in hospital and for food processing in kitchen uses. Stainless wire materials in SUS302, 304, 316, 304L, 316L offers excellent corrosion resistance to acid, alkaline and heat environments. Suitable for high temperature sterilization and pasta, meat, barbecue processing. The stainless steel baskets are widely used for storing as fruit baskets, basket, dish basket, cookware rack for various supermarket goods baskets, turnover box; hotel with drinks, food shelf; office with low baskets, file baskets, books, newspapers, pet cages. Outer shapes are round or rectangular baskets.
Processing: It is made with woven wire mesh, or welded mesh, round wire normally. Finished with chrome plating or stainless steel surface.
Advantages: smooth surface, no rust, corrosion-resistant, non-toxic, health, environmental protection and durable to ensure quality
SS304 Disinfection Basket
- Quality Standard: ISO9001:2008
- Medical usage
- Sample available
- Standard size. Also custom size
Materials and technology: Made through bending, welding with stainless steel wire.
The surface is mirror surface finishing.
Specification: According to customer's demand
Features: The surface is smooth. Do not rust, Be anti-corrosive, Non-toxic, So it is be propitious to Hygienic and environmental protection.

Specification: 13"Wx7.5"Dx8"H, 11"Wx6"Dx6"H also can be made as your specifications.

Stainless Steel Baskets for Storage of Food and Fruits:
Modern, easy-access storage in open weave steel wire with a bright stainless stee finish. Wide handles for easy portability. Matte nickel finish

Purpose: Widely used storage basket.

Chemical composition of Stainless Steel Wire Mesh Baskets
AISI
Chemical Composition(%)
Grade
C
Si
Mn
P
S
Ni
Cr
Mo
304
0.08
1.00
2.00
0.05
0.03
8.00~10.50
18.00~20.00
-
304H
>0.08
1.00
2.00
0.05
0.03
8.00~10.50
18.00~20.00
-
304L
0.03
1.00
2.00
0.05
0.03
9.00~13.50
18.00~20.00
-
316.00
0.05
1.00
2.00
0.05
0.03
10.00~14.00
10.00~18.00
2.00~3.00
316L
0.03
1.00
2.00
0.05
0.03
12.00~15.00
16.00~18.00
2.00~3.00
430.00
0.12
0.75
1.00
0.04
0.03
0.60
16.00~18.00
-
430A
0.06
0.50
0.50
0.03
0.50
0.25
14.00~17.00
-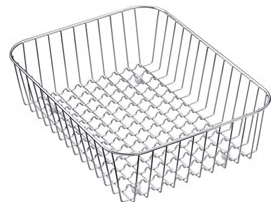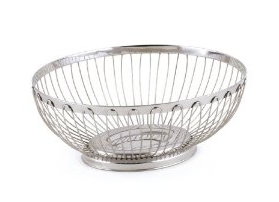 Stainless Steel Baskets for Kitchen Uses

Crimped Stainless Mesh Baskets: Wire diameter;1.2mm-4mm mesh:0.5mm-5.5mm length:30m weight:50kg-220kg.