French Fry Basket
We offer mesh types frying basket working with countertop and floor type fryers for cooking chips, chicken, fishes, etc. Processed from Food Grade Stainless Steel 201, 304, 316, 316L wire mesh for deep frying and straining of liquids in cooking. The wire baskets for kitchen utensiles are designed with long front hooks mostly. The frying basket is in rectangular shape with a flat mesh base offering stability in cooking and serving at table. The mesh types can be Welded Mesh, Perforated Mesh or Expanded Mesh.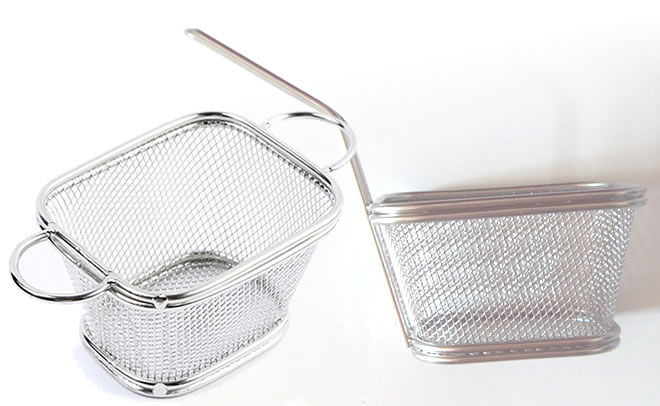 Chip Cooking Straining Basket Designed with Stainless Steel Welded Mesh Structure Offering Stable Structure and Durable Use
Stainless Steel Wire Fryer Basket Strainer
Material: Stainless steel 302, 304, 316
Feature: Fryer Basket with steel front hook design suitable for fryers of countertop and floor models.
Used for French Fries cooking and serving food presentation.
Popular sizes:
190*110*63mm
90*9.7*8.4cm
125*85*65mm
SS 304 Mini Presentation Chips Basket
The mesh style frying basket features a long handle, ideal kitchen utensil to use when making French fries or wings. The basket can catch the solids while draining away the liquid.
Popular size: 100x80x70mm
Material: Food Grade Stainless Steel 201,304,316,316L
Suitable for use: Restaurant, hotel, home kitchen
Chrome Plated Steel Deep Frying Basket
This mesh basket features a chrome plated metal wire design offering extended use and bright surface.
Popular Sizes:
The wire basket measures 8 1/2 inches across the top, 6 1/2 inches across the bottom and 4 1/2 inches high; 9-1/2 inches across the top , 7-1/4 across the bottom, 5-3/4 high.
Used with deep fryer.
Material: Chrome plated steel.
Wire: Round
Also supply:
Perforated Metal Basket
Mesh Basket for Turkey Fryer

We supply and process according to coming drawings or samples.