Warehouse Wire Cage
DeKezhi is a China manufacturer and supplier of safe and durable basket wire cages. We specialize on designing industrial cage wire zinc plated used for PPE in warehouses. Surface treatments are zinc plated bright wire, Powder coating or chrome coating for customers options. From accessories to assembling, all procedures are finished in our own factory to guarantee quality of the cage wire products and competitive pricing. Our zinc plating method is trivalent chromium, it is environmental-protection and has been granted certificate of SGS.
Data sheet with the weights and dimensions available will be provided upon specific request.
Popular Item: Container CAGE: WIRE ZINC-PLATED 1500L X 1000W X 1200H MM
SPECIFICATIONS CAGE:
TYPE: Metal Wire / 4 Sides
DIMENSIONS (L X W X H): 1500 X 1000 X 1200 MM
Stackable / Collapsible Mesh Sheet with Special Foot
Material: High quality mild steel
Finishes: Zinc, zinc and powder, chrome coating. Three types against corrosion. Powder coating layer is optional in red, blue or yellow colors.
Smooth surface.
C/W: This cage is designed with lockable double doors for security.
Uses: Used in warehouse for PPE.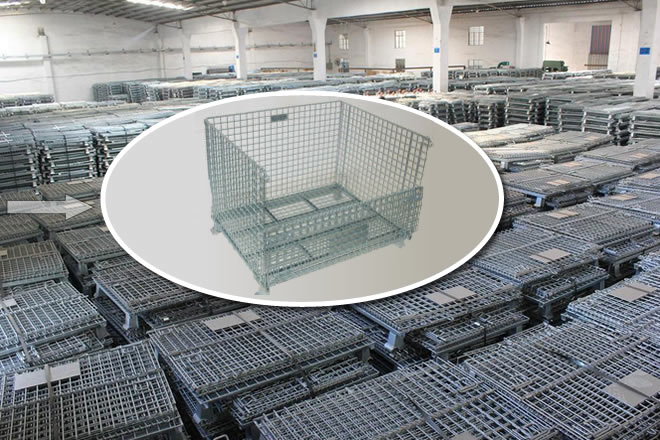 DeKeZhi offers metal storage cages with different wire diameter and designs. Widely used in warehouse and supermarket.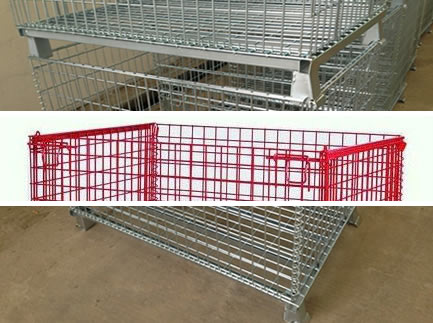 Specifications(mm): 1200*1200*890; 1200*1000*890; 1000*800*840; 800*600*640
Loading Capacity(kg): 400-1500
Product Features:
Foldable and stackable;
Designed to transport and store goods with forklift and pallet truck.
Packing: snakeskin bag + packaging line or as your requirement
Any sizes of products can be customized
Popular size in US Market:
| | | | | |
| --- | --- | --- | --- | --- |
| Item | Size (DxLxH) | Mesh pattern | Capacity | Quantity in 40' HC |
| Extra large Cages | 40''x48''x42'' | 2''x2'' | 4000lbs | 306 |
| Senior cage container | 40''x48''x36'' | 2''x2'' | 4000lbs | 306 |
| Medium cages | 32''x40''x34' | 2''x2'' | 4000lbs | 500 |
| Junior cages | 20''x32''x22'' | 5''x.5'' | 1500lbs | 648 |
Mass production size:
Item No.
Cage Size
Mesh & Diameter
Capacity
Net weigh
Quantity per 40' HC
(LxDxH) (mm)
(mm)
(kgs)
(kgs)
DKS-01
812X508X558
25X25 & 3
300
19
696
DKS-02
800x600x640
50x50 & 6
800
32
696
DKS-03
1000x800x840
50x50 & 6
1300
49
500
DKS-04
1200x1000x890
50x50 & 6
1500
65
306
DKS-05
800x500x540
25x50 & 4.8
500
25
832
DKS-06
1000x600x640
50x50 & 6
1000
37
496
DKS-07
1256X1060X1140
50x50 & 6
1500
87
272
DKS-08
1200x800x840
50x100 & 6
1200
49
378
DKS-09
1000x800x840
50x50 & 5.6
1000
44
484
DKS-10
2000X1200X890
50X100 & 6
800
86
135